---
slitch. so peter, perhaps it's not gangrene caught under new tires.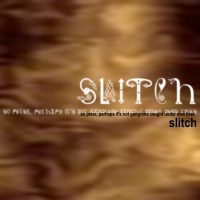 RELEASED 15 AUG 2001 ~ 71.56
Somewhere between avant-garde and mutant electronica, Slitch is truly in a league all its own. Working with everything from "found sounds" to nontraditional recording techniques to mutant pigs of death, their debut full-length release is available.
---
WE OFFER PAIN AND SUPPRESSION FOR THE FAIRER SEX WE OFFER HATE AND OPPRESSION FOR WHAT IS INCORRECT COUNTLESS INNOCENCE LOST IN WHAT WE OFFER BROKEN BODIES TOOLS OF TRADE SENSELESS MUTILATION IN A PATRIOTIC MASQUERADE A GOD'S NEED TO FUCK MEANS A WOMAN'S DESIRES HAVE GOT NO PLACE WE OFFER A HOMELAND AND A SENSE OF PRIDE WE OFFER PATRIOTISM ALL THE PAIN ASIDE OF ALL THIS HORROR WE LED THE SLAUGHTER ANNIHILATION OPPRESSION INTIMIDATION SUPPRESSION BEAUTY IS A WOMAN'S GLIDING WALK A SILENT TALK A TIGHTNESS THAT BLEEDS YOU DRY AND TAKES YOUR JOY WE OFFER AN END
---
SLIP INTO THIS DREAMING LEAVE THE CAMERA ON ALWAYS WATCHING COUNTDOWN SPY SUBVERT COLLECT CODES TIME IMAGES STAGGER ENDLESS FILL MY LIFE WITH PAIN A KNOCK AT THE DOOR CAPTURE IT FOREVER SPREAD THE PLAGUE SHUDDER WASTE THIS LIFE LEAVE THE CAMERA ON ALWAYS WATCHING ALWAYS WATCHING SHUDDER ALWAYS WATCHING
---
SPENT LIFE AS A SCHOOLYARD VICTIM RAPED BY SO CALLED MORALS I'VE BEEN CASTRATED BY YOUR LAWS THIS IS MY WAY OUT HOW I FEEL WHOLE I NEVER THOUGHT LIFE COULD BE THIS GRAND WHAT A PITY YOU'LL NEVER UNDERSTAND I NEVER THOUGHT LIFE COULD BE THIS SWEET WHAT A PITY YOU'RE ONLY MEAT I'VE ONLY JUST REALIZED IT'S ALL A GLORIFIED GAME TO EAT OR BE EATEN TO BE THE PREDATOR OR THE PREY I NEVER THOUGHT LIFE COULD BE THIS GRAND WHAT A PITY YOU'LL NEVER UNDERSTAND I NEVER THOUGHT LIFE COULD BE THIS SWEET WHAT A PITY YOU'RE ONLY MEAT I'VE DEVOURED VICTIMS STALKED CUNNING SAVIORS ALL PAWNS IN THE GAME OF LIFE ALL HAVE LOST CAUGHT IN THE MAZE NO MATTER THE POSITION OR THE RANK I NEVER THOUGHT LIFE COULD BE THIS GRAND WHAT A PITY YOU'LL NEVER UNDERSTAND I NEVER THOUGHT LIFE COULD BE THIS SWEET WHAT A PITY YOU'RE ONLY MEAT
---
PREVARICATE SUFFOCATE TRANSIENT WRAITH PSYCHOGENIC LIAR BURNT PURIST QUID PRO QUO PREVARICATE SUFFOCATE OBSCURANT VAGRANT RANCOR LIES BURNT PURIST QUID PRO QUO PREVARICATE GENERATE DEAD ANGEL LOST IN LIFE BURNT PURIST QUID PRO QUO
---
ROTTING CORPSE PARADE THE APOCALYPSE HAS PASSED BLOOD SMEARED OUT OF FURRED LIPS LIKE A SHOWER OF DARK WATER DROOLING AT THE MOUTH SICK OF SKIN DISORDER SEQUENCE DESPAIR TWELVE YEARS OLD FALL OUT OF DARK BRANCHES ANOTHER PASSING TIME AND JUST FOREVER RISE FROM SLEEP ACHING WAITING SO VERY LONG AGO BRIGHT FLARES AT MIDNIGHT TURNING FACES TO THE BLACK SKY IS THIS THE END OR ONLY AN ENDING? HEAD OUT TO THE HIGH PLACE UNDERSTANDING SEEMED SO FAR AWAY IT WAS THE END OF EVERYTHING THEY KNEW
---
BLIND FAITH PURITY LOVE NEVER ENDING DOES SHE BELIEVE OR IS IT JUST PRETENDING IF YOU COULD END HER PAIN YET HURT NO ONE THAT'S NOT HOW LIFE HAPPENS NOT FOR ANYONE SHE WAITS AT HOME UNSUSPECTING LOVER COULD HE BE IN THE ARMS OF ANOTHER WATCH SEE HIS CHARADE HOPE FOR THE BEST WHETHER OR NOT TO END IT HAS PUT YOU TO THE TEST