---
nothing inside. remnants three.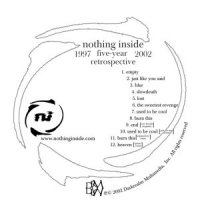 RELEASED 20 AUG 2002 ~ 72.20
This disc is a brief retrospective of our work over the last five years. Only available to Collapsing Memories members, it contains signature tracks from each of our five CD LP releases as well as remixes from the singles collection for FALL, and an END megamix previously released only on Remants One.