---
nothing inside. end.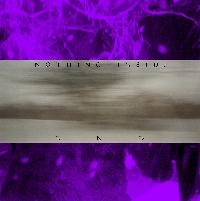 RELEASED 16 JUN 1998 ~ 72.45
This CD comprises the entire original END cassette plus four rare bonus tracks. All tracks have been remixed and remastered for this CD release. The bonus tracks include alternate versions of Empty and End and two songs from the original END sessions that wound up on the cutting room floor.
---
empty now the laughing stopped tension remains the breaking shock the child waiting condition norm strike the man in evil form the night to break and silently crush the life too sharp to see and angle down cambion bent the dawn shall break no supplicant throne of old with waiting eyes search the child to take its prize the closing gate will fall too fast the beasts will gorge on hideous repast the crying veil will lift the hand to reveal the broken man stand fast the life breaking short sharp the evil in its retort closing fast the gate now shut life swallowed down the cord now cut the tale is told the fate undone the chest is empty the victor: none
---
loving you was always a matter of faith trapped in those three dead holes with no escape all those times i tried to cry i shut right down and closed my eyes and opened them dry to find you collapsed in pain loving you was always a matter of faith i once loved a girl that looked just like you and it seemed to me that all our wishes would come true but all those wishes were wished in vain we watched each other writhe in pain i did not intend to do the same to you when i first met you it felt so good honest and open we both knew where we stood but then you lied and caused me pain and so began our bitter game and then i rushed to do the same to you loving you was always a matter of faith you said i never opened up enough i never quite knew just what you were thinking of all those things we tried to hide we curled on up and died inside all for the waiting to decide on love so this is how we came together and this is how we fell apart i tried to slow our fall from grace i tried to save this matter of faith but this emotional rape was just too hard loving you was always a matter of faith
---
i can't quite seem to crawl away throw hot metal into my face thirst like that of a drowning man sores open up upon my hand things too real for me to see through the veil of my tortured scream my voice falls out into the black i turn around but can't get back i scream as i watch my body dies angels twist and run like mice falling falling deeper through my skin falling out and back again your words are much too close and dead spiders struggle to escape my head i turn to dust and begin to writhe twitching and falling into your eyes burning fire as cold as lead i try to speak but the words aren't there running out onto the crimson ground creatures split open without a sound discoloured flesh lined up in rows i fall down and decompose voices reaching from the dark i succumb to them and break apart i scream as i watch my body dies angels twist and run like mice falling falling deeper through my skin falling out and back again your words are much too close and dead spiders struggle to escape my head i turn to dust and begin to writhe twitching and falling into your eyes
---
it's 3:45 am i can't sleep it's 3:47 and i look through the glass and see the rain falling down into the lonely deserted street but there are vultures at my window they sit and watch - watch and sit are they waiting for me to die? fighting my nausea i look down again at my legs they've both been cut off, you know and there are maggots eating at my stumps moving upwards to my groin i would scream if i had a tongue - but the vultures are chewing on it i lean over the nightstand and look into the drinking glass my left eye is torn out by a rough tongue that comes lashing out of the water i turn back and watch the wall there are all the people waiting waiting for me to die a child, small and delicate looking comes up to me and chews off a piece of my hand swallowing, he smiles i wake up screaming i sit up in bed and look at the clock - 3:48am it was only a dream a nightmare i decide to go for a walk outside, the air is cool, and i am suddenly moved to look at the sky there are no clouds tonight - but all the stars are gone i look down and see a delicate child he has my fingers in his mouth
---
you hollow me out you leave me scared you cut me until i bleed you want to rip too much from me that i think i still need you threaten me and hold me tightly dangling hopeless in the fire i close my eyes so sweet and lonely falling down i'm so tired you pull and stretch my far away and close till i can't breathe you wrap your legs around my head and closing stop to feed you're just another dying form just another soulless shape i watch you suck the life from me as you take and take and take and take you wrap me up and hold me tight and close me closing in you smile and swallow up the sun and suck me right on in you're just another dying form just another soulless shape i watch you suck the life from me as you take and take and take and take i feel the fire slipping deeper inside of me i crush down the fear i feel rising to frighten me it's just me trapped in this empty room with your love and the lies it turned into so soon i feel the life slipping faster away from me i babble out words in useless old poetry it's just me trapped in this empty place with your memory of mocking me so hard to erase
---
if i am led astray by your words i will try to begin to forget the hurt i think that i could bear it all if you're willing to share at all then i'm willing to lie when life is at its most painful it can seem somehow all the more meaningful but when i expect adoration and instead i receive condemnation i'm willing to lie watching you wipe my tears away i'm aware that you have your debts to pay and you can't waste precious time on someone who lies but i know that you'll put all your trust in me if you have enough lust for me and we'll be together until one of us dies but if i should happen to find that i'm the one who's always been blind then i'll probably fall down in quiet despair searching for the love that was never there but then i'll pay more attention to you break down and make one more concession for you rip out my heart and lie bleeding in front of you yes to you i'm willing to lie it's to you i'm willing to lie to crawl on my knees and lay down to die it's with you i'm willing to lie to roll under the sheets and cover our eyes it's to you i'm willing to lie i'd tell you the truth but i'm much too shy it's with you i'm willing to lie it's to you i'm willing to lie it's with you i'm willing to lie it's to you i'm willing to lie
---
my faith it falls too far too fast and it's too hard for me to see why we ever chose to live together in our perfect dream harsh too harsh and cold and thin your words echo in my head "i thought we should spend all our time together" "now i wish you dead" i watch you breathe the same sick way using up my air if i should march to heaven to avoid you i'd only find you there my patience grows so thin too thin my pleading you ignore "but we have to stay together for the children" i can't stand anymore and i must stop loving this... i'm sick of all the drinking and i'm sick of all the fighting and i'm so tired of all this thinking so i think i'd like to say goodnight but i just keep holding it up for you to keep pulling me down i just keep holding it up for you to keep pulling me down and i must stop loving this... we hate each other more or less we fight and cry and scream how could we ever find ourselves so trapped in this perfect dream
---
the shadows rise the darkness forms the night it screams with things unborn the darkness breathes the shadows writhe the creature forms before my eyes the talking beast pale against the wall the writhing worms begin to crawl the flesh now dead soon forever living formed from night and unforgiving just call me rumplestilskin i'm here for your soul just open up and let me in and i'll assume control halloween monsters rising from within little green monsters crawling through my skin pointing fingers and curious stares the beast consumes the crowd unaware the endless death in unholy light they all will die this halloween night just call me rumplestilskin i'm here for your soul just open up and let me in and i'll assume control halloween monsters rising from within little green monsters crawling through my skin
---
as hard as smiles and quick like lies we watch the same silent film a memory collapses i see your eyes grow dim muted i watch the darkness gather objects gasping in my childless dreams bleeding faster pushing closer darker murder children grasping deep explode misery the gong resounds pushing away the fear coming closer sharp the pain hands uselessly hang silently grip the shaft pulling barbs stuck fast reversing light or eyes cannot be told the twisting shapes still laughing life exists still shaft exploding heart then mind all time corroding into dust that blows away and shifts and spins to procreate how can you love someone so much how can you believe in what you can't trust how can you forgive when i just won't try blind and blinding we close our eyes and we're just like animals just like animals and all we can do is close our eyes and watch each other die the spinning void the twisting shapes the gaping mouth screams much too late the shards collide in melting form the hourglass drops too late to mourn choir collapsing final note descending the eyeless child cries never ending it's not supposed to be like this it's not supposed to be like this how can you love someone so much how can you believe in what you can't trust how can you forgive when i just won't try blind and blinding we close our eyes and we're just like animals just like animals and all we can do is close our eyes and watch each other die
---
i will always hate you for all the things you've done for all the times you left me for those times that are all gone you were just a waste of skin another twisting face just pushing in just another useless sucking void all those times i tried to walk away all those loving words you made me say and nothing left but regret pushing away the fear nothing left no one left nothing left at all i will always hate you for wasting all my time for twisting up my sad old heart and screwing up my mind i was so stupid then to think you could be more than just a friend to think that you would ever love me i will always hate you for all the things you've done for all the times you left me for those times that are all gone you were just a waste of skin another twisting face just pushing in just another useless sucking void all those times i tried to walk away all those loving words you made me say and nothing left but regret pushing away the fear nothing left no one left nothing left at all just your useless empty words just your empty useless hurt